The EPIC Tracker blog is part of a series linked to the UNU Evidence, Policy, and Interventions for COVID-19 Tracker (EPIC Tracker). The tracker is a comprehensive repository of policies that have been enacted in response to a wide range of issues impacted directly by the SARS CoV-2 (Coronavirus) or indirectly by the measures taken to control the pandemic. This series has two aims: First, to raise and explore a range of health-addressed research and policy challenges that have arisen as a result of the COVID-19 pandemic. Second, to demonstrate the purpose and potential of the UNU EPIC Tracker as a comprehensive policy repository.
23 July 2020
by Ahsan Ahmad, Arinjay Butani, Fatima Ghani, Claudia Lopes and Emma Rhule.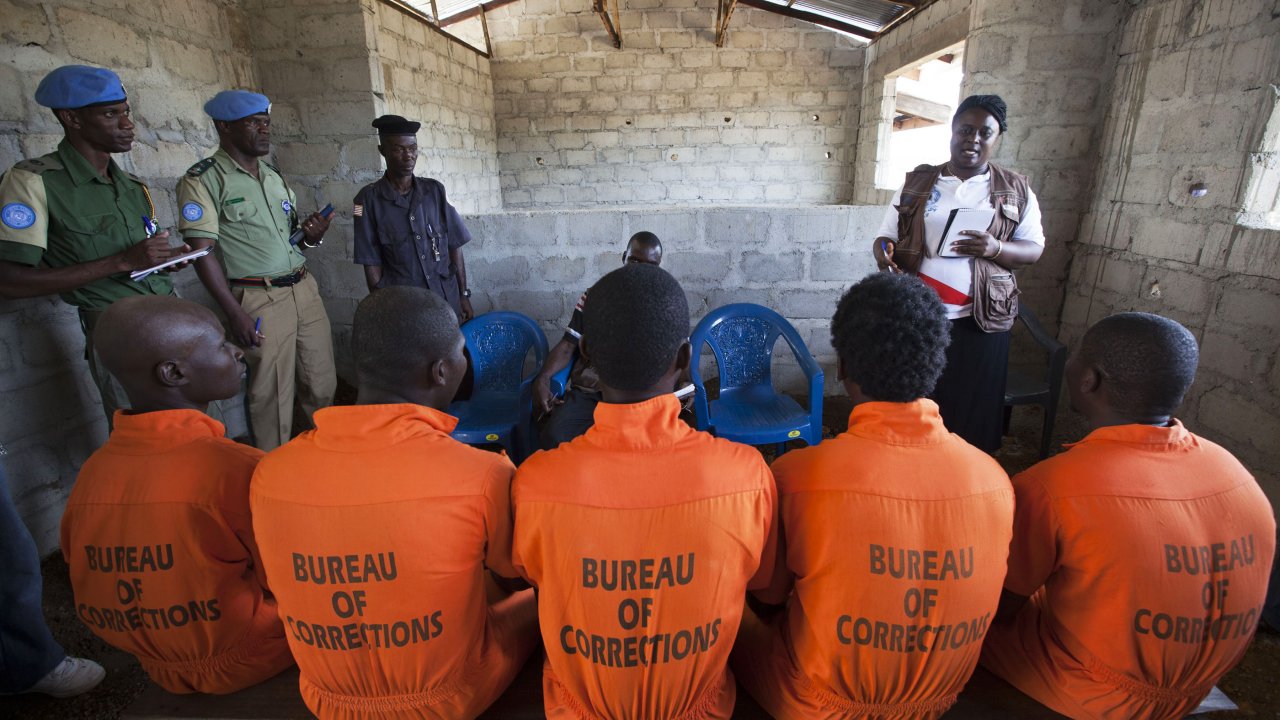 UNMIL Photo/Staton Winter
Prisons, detention centres, and other custodial settings are important locations that need to be included in any national public health response to the COVID-19 pandemic. The exacerbated risks posed by the pandemic in detention facilities are clear: prisons across the world are severely overcrowded, making social distancing unfeasible, and placing prisoners at a higher risk for virus infection and transmission. Unavoidable close contact, poor ventilation, unsanitary facilities, and poor access to healthcare lead to severely aggravated health risks. Furthermore, many incarcerated settings lack adequate screening programmes, deploy fragmentary harm reduction and infectious disease treatment initiations, and operate with insufficient medical personnel. With inadequate intervention toolkits and populations that are highly susceptible to severe infection, incarcerated settings are akin to incubators for infectious diseases – as learned with the tuberculosis and HIV epidemics.
Globally, governments have committed to curtailing risk and reducing rates of COVID-19, yet there has been a lack of comprehensive screening and testing for prisoners and staff in prisons. Contributory factors encompass societal, economic and structural factors, including institutionalised stigma, racism and poverty, which ultimately influence ministerial budget decisions and violate fundamental human rights. The spread of COVID-19 in prison clusters has been documented across the world. COVID-19 has an increased rate of mortality amongst senior citizens and people with pre-existing and chronic conditions. Prisons across the globe are experiencing ageing populations and individuals with multiple co-morbidities. Data from prisons and detention facilities shows that COVID-19 has negatively affected the health of thousands of prisoners, officers and staff, and threatened the health of their families, communities, and networks; furthermore, threatening the billions invested in 'flattening the curve'.
Prison overcrowding has exhausted prison health systems impacting governments' capacity to adequately achieve the United Nations Sustainable Development Goals. As countries attempt to cope with the resurgence of serious communicable diseases such as COVID-19 and other health problems in prisons, it has become clear that national strategies for mitigation should consider developing and including prison policies. Positive COVID-19 cases have been recorded in significant numbers in prisons across the world, including the United States, South Africa, Ethiopia, the United Kingdom.
The United Nations High Commissioner for Human Rights, Michelle Bachelet, warned governments of "catastrophic consequences" if they neglected prison populations in their COVID-19 response. Recognising these consequences, countries have introduced a range of evidence-based interventions and preventative measures (as recorded in the EPIC Tracker). These interventions are discussed below, with recommendations on next steps in the short and longer-term.
Reducing overcrowding
Prisons are severely overcrowded in at least 64% of all countries, hindering the overall efforts to mitigate the impacts of the pandemic. Leading global health, human rights, and development institutions have called upon governments to reduce overcrowding by: (1) releasing inmates who are especially vulnerable to COVID-19 (elderly populations, people with pre-existing health conditions, undocumented migrants and refugees, and low-risk offenders such as people who use drugs); (2) halting custodial sentences and shifting to alternative noncustodial sanctions; and (3) establishing moratoriums on new prison admissions and places of detention. Reducing overcrowding in prisons is critical to mitigate the risk of infection in confinement and maximise limited resources to introduce additional safety measures. Furthermore, due to the scarcity of medical supplies, opening more prisons would be counterproductive and only increase the risk for potential outbreaks.
In congested conditions where prisoners are unable to practice social distancing and properly follow prescribed safety measures, a health response alone is insufficient. In her appeal to governments, Michelle Bachelet urged countries to release "every person detained without sufficient legal basis, including political prisoners, and those detained for critical, dissenting views". Acknowledging these recommendations, several governments are addressing prison overpopulation in varying degrees and methods. Some countries have pardoned inmates indefinitely, while others have temporarily granted bail or placed inmates under house arrest. These early releases of inmates have been widely documented across the world, with new laws introduced and existing laws amended to release prisoners in countries such as Turkey, Philippines, and the United Kingdom, to name a few.
Nevertheless, Human Rights Watch and Amnesty International have noted that in certain countries such as Bahrain, Turkey, and Myanmar, governments have seized this opportunity to further oppress dissenting voices in many countries by excluding political prisoners – human rights defenders, opposition leaders, activists, journalists – from prisoner releases.

UN Photo by Leonora Baumann
Strengthening access to health and hygiene
The World Health Organization provides guidelines for the Preparedness, prevention and control of COVID-19 in prisons and other places of detention, outlining health and safety measures to mitigate the impact and spread of COVID-19. Countries should incorporate these guidelines for the mental and physical wellbeing of prison populations who, unlike those in the community, have no alternative to the care provided by the state. Several UN agencies are lobbying governments to ensure that the principles of the UN Standard Minimum Rules for the Treatment of Prisoners are upheld. Subsequently, in several countries such as Hong Kong, the United States, and the Republic of Maldives, governments have ordered prison authorities to clean detention facilities, provide protective gear such as face masks and gloves to inmates, and ensure the provision of basic antibacterial products like soap and sanitiser.
Strengthening access and utilisation of technology
Measures to minimise contact between inmates, staff, and visitors have been implemented by prison authorities worldwide. Isolation and quarantine wings and facilities for those displaying symptoms have been built, and prison visits have been suspended across the world, as seen in mitigation measures implemented in Botswana, Tajikistan, and Kuwait.
The detrimental impact of increased isolation and quarantine on the mental health of prisoners is a primary concern that must not be ignored. Prison riots have increased due to lack of psychosocial support and meaningful stimulus amidst the pandemic, increasing safety concerns. While some prisons have installed technology such as video calling software and payphones to minimise this isolation, most prisoners across the world remain cut off from the outside world. Strengthening the utilisation of technology in prisons and places of detention to facilitate more frequent communication is paramount. Human rights NGOs have also expressed concern regarding prisoners' rights to access their legal counsel and the impact of suspended legal proceedings on prisoners' rights due to court closures. Governments and prison authorities must ensure that their interventions are aligned with the UN's Nelson Mandela Rules and the Bangkok Rules, which provide the key standard for the treatment of prisoners globally and emphasise principles such as institutional equality and the philosophy of confinement – regulations limiting social insolation to support wellness – that governments should abide by to ensure the proper treatment of their prisoners.
Moving forward
Countries must ensure that the rights of people deprived of liberty are considered in their COVID-19 mitigation policies with a combination of short and long-term responses. In the short term, while the pandemic continues to have a direct impact on prison populations, countries must halt new custodial arrests, particularly for undocumented migrants and refugees, women and children, and those charged with nonviolent offences such as people who use drugs. Currently, numerous governments across the world have threatened prison terms for those committing COVID-19-related offences. Instead, governments should act urgently to reduce prisoner numbers by imposing a necessary moratorium on new arrests and considering alternatives to incarceration.
In the longer term, systemic, structural changes are required to prepare for future pandemics. The COVID-19 experience has highlighted three systemic realities of justice systems worldwide. Firstly, due to severe overcrowding, prisons across the world are ill-equipped to withstand the harsh impacts of pandemics and infectious diseases. Secondly, punitive drug policies have steadily increased rates of incarceration significantly, contributing to the severe overcrowding in prisons worldwide. And lastly, the widespread release of prisoners in a matter of a few short months has highlighted the arbitrary nature of laws, and particularly, criminal laws and punitive sanctions.
As immediate action steps, to mitigate the impact of COVID-19 in prison populations, governments should: (1) reduce severe overcrowding; (2) strengthen access to health and hygiene; and, (3) strengthen access and utilisation of technology. While these measures might mitigate the infection risk in the short term, it is essential to address the underlying causes of imprisonment to reduce numbers. Punitive drug policies are a significant contributor to prison overcrowding in many countries, with high levels of people who use drugs in prison.
Limited evidence exists to justify imprisonment as the most effective deterrent towards drug problems, and arguably most effective intervention for healthier reforms for either an individual or society. Therefore, as a long term strategy for pandemic preparedness, to systemically ensure a reduction in incarceration rates, governments should comprehensively review punitive drug laws and consider alternatives to conviction and punishment for drug possession for personal use.